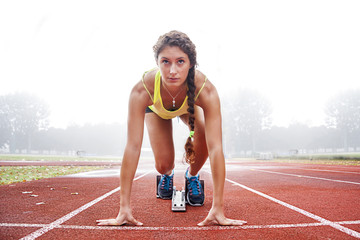 Do you remember that strange thing at school athletics day as a kid when you'd be about to line up for the sprint race and suddenly need to pee? Never mind the fact you'd already been to the bathroom twice in the last half hour. No, just me?
I remember being so nervous about the running races in Year 9 that I was genuinely hoping I would somehow break both legs before athletics day. There was a girl who had been bullying me a bit for the last few months and we were pretty much neck and neck in terms of fitness (9 periods of sport a week together left little ambiguity). I was pretty sure I had the edge on her but I knew that it would push me to my limit physically.
But the horror of coming second, or 'first loser', as some competitive people like to say, drove me on and I won every single running race in that athletics competition. The most memorable was the 400 metres, my least favourite event. Middle distance is horrible, in my opinion, because it pushes you to your limit for the longest period of time. There's no slow and steady, and you can't give it all in the first ten seconds. Shortly after the race my legs cramped up so badly that I was lying on the grass crying while my mother stretched out my hamstrings.
I often used to look forward to long distance more than sprinting, even though I found it less enjoyable, just because I found it less stressful. And last time I was with my boyfriend Jacques the last thing I wanted to do was sprint. Because I love it so much.
I am currently working on a novel. Writing stories makes me crazy happy and I love every amazing, difficult second of it, but I have to get my cousin to give me deadlines because otherwise I will ditch writing to do the washing, or clean the house, or reorganise my pantry. Why do I avoid the thing I know will make me come alive the most? The other things are mundane tasks, yes, but it is a lot harder to fail at them. And if I did, what's the big deal? So, I'm not a domestic goddess after all (or am I really?).
But somehow if I fail at writing, or view myself as having failed, I feel that I have failed as a person. Every writer (who actually shows their work to others) knows that you have to develop a pretty thick skin, and I have gotten better at handling rejection over the years. However if someone were to give 'destructive criticism' (as opposed to the more commonly used constructive criticism) I would find it hard not to perceive it as a criticism of me as a person.
In some ways it's easier to never try your hardest, because then your all, your absolute best, can never be rejected, or deemed 'not good enough'.
We need to decide whether the risk is worth it. Would you rather succeed at rearranging your pantry or winning an Olympic gold medal for the 100 metre sprint? Fill in the blank with your passion, but don't avoid using the gifts that God's placed in you because, in some ways, it's a slap in the face.
As a side note, of course Satan would want us to become distracted and do everything but the thing that is going to have the most impact. The thing that would make us really come alive.
Look into your own heart. What desires are in there so deep that you feel like to cut them out would to become someone else entirely? Maybe you already know.
Now ask God to help you pursue that, to his glory.
Sincerely
Lil
Image: https://en.fotolia.com/tag/%22sports%20race%22, sourced 21 June 2017